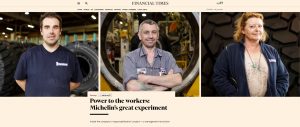 On May 15, 2017, Financial Times printed edition has featured two articles on Michelin world-wide corporate liberation. Michelin calls it "responsabilisation" while FT calls it revolution.
The first article "Power to the workers: Michelin's great experiment" discusses radical transformation that has taken place in parts of Michelin and sketches out the same transformation to come in 2018 at the level of the entire corporation (on the article's web version, Michelin's Chief Executive Jean-Dominique Senard's podcast details this future).
The second, "Explainer: Michelin's 'responsabilisation'", provides the principles behind Michelin's corporate liberation approach.