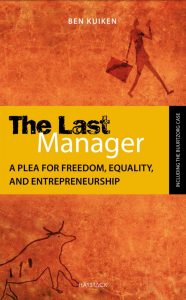 I met Ben Kuiken in 2010 in Paris, after the publication of Freedom, Inc. and because he liked it (see his blog post). His passion for the freedom and responsibility in companies soon resulted in a book De laatste manager – Een pleidooi voor vrijheid, gelijkheid en ondernemerschap  published in 2011 in Dutch.
A large part of this book was dedicated to Buurtzorg that he widely studied and made popular in Holland. In addition, he studied other freedom-based organizations (the term he uses) including Semco, providing perhaps one of the latest this company's descriptions.
I am happy to announce that Ben's book is now available in English. You can start reading and order it here.
You can also see his YouTube :