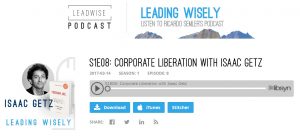 We have already mentionned in this blogpost that Ricardo Semler has launched a series of podcasted conversations with various leaders and authors who explored or practiced how to build organizations based on freedom and resposibility.
On June 27 we had a 1-hour discussion with Ricardo Semler on how France became the first country in the world where there is a true corporate liberation movement.
You can read the partial transcription of and listen to our exchange here.